Fourth of July: Cookout Guide
The ultimate guide to your Independence Day cookout delivered right here on the blog. Hosting the holiday for friends and family can weigh heavy on your shoulders when aiming to provide all the Fourth of July essentials. We're here to take that weight off your shoulders with 10 of the best tips & tricks for your summer cookout. Take a look!
Tips & Tricks
Show your inner American through your decor!
It's not a cookout without red, white and blue decor! A simple way to incorporate America's colors into your tablescape is to tie colored bandanas around everything in sight. Use them to bundle silverware together or simply tie them around a vase of white daisies.
Use citrus and cloves to keep them away!
While we might enjoy the smell of citrus, bugs and mosquitos don't particularly love the strong scent. By placing half of a lemon or lime garnished with a clove on your outdoor tables, you can keep these pests away from guests.
Put a new twist on your fruit platter!
Grilled fruit? Never heard of it? It's a grilling tip you have to try out this season. Throw a peach or watermelon on the grill and achieve brilliant grill marks to receive bonus points from your guests.
Make a batch of a festive cocktails ahead of time!
If you decide to cool off with cocktails at your cookout, plan ahead with a pre-made mixture that takes the pressure of providing all types of cocktails off your shoulder. If you decide to cool off with a refreshing glass of water, make it fun by freezing lemons to throw into your cup.
Utilize your kid's pool for your cold items!
Trying to keep your veggie tray cold while the smoldering summer heat beats down on them? A "kiddie pool" is the perfect size to fill with ice and set all perishable foods on top.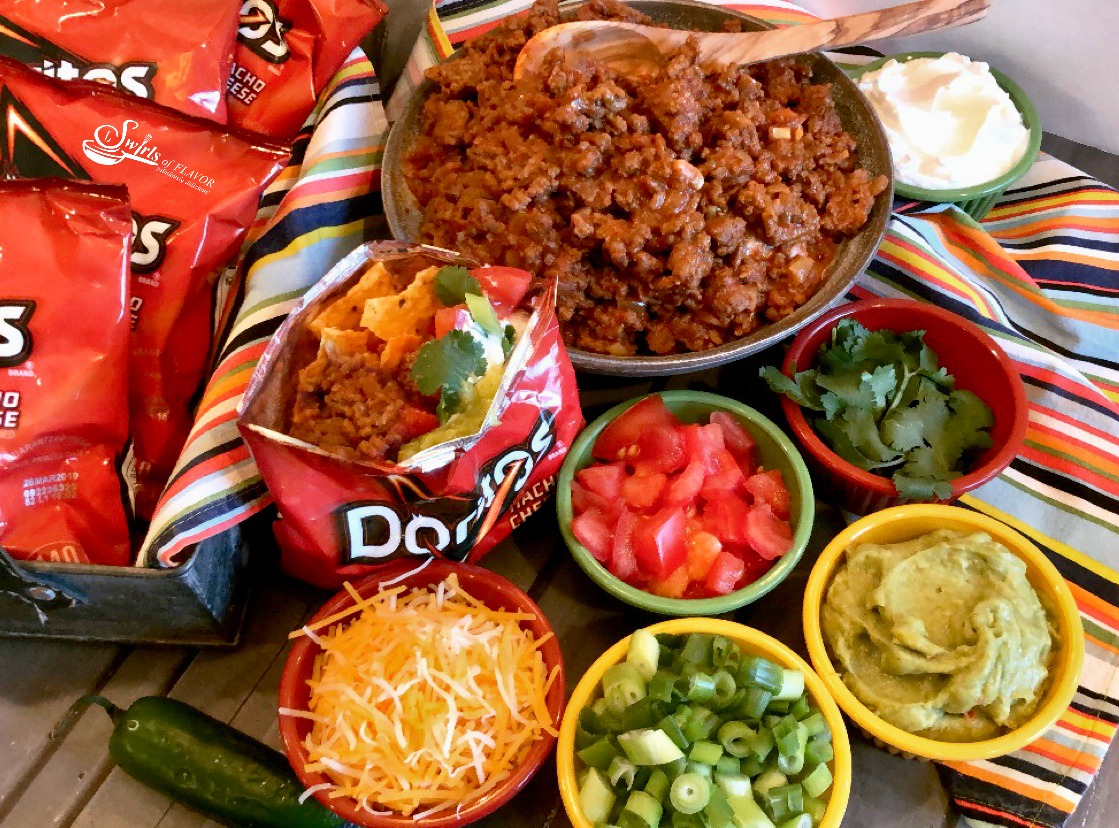 Tacos that are made for easy cleanup!
It's a bagged treat the kids will love that leaves you with as little cleanup as possible. You would be surprised the types of chips kids are willing to test out with any type of meat. Shred your chicken or make seasoned beef to add instantly to your their favorite bag.
Organize your condiments in a practical way- with muffin tins!
Condiments were practically made for the muffin tin. Squeeze the mustard and ketchup into one spot in a muffin tin and leave room for tomatoes and relish.
It's perfect for the kids!
Leave the traditional seating for the adults and opt for a more fun seating arrangement for the kids to gather around. You can create this my simply spreading blankets in the lawn and putting a small crate underneath a table cloth.
Make a playlist of your American favorites!
It's surely not a cookout without your favorite musicians playing in the background. To keep the party going, ensure you have outdoor speakers that are loud enough to hear from all corners of the yard.
Use an onion to clean your grill!
An onion + fork on boiling hot grates makes for a clean grill that's ready for grilling. Cut an onion in half and use a fork to smother the hot metal and rid of the leftover grime. The onion's antimicrobial properties will take the leftover baking grit right off with the help of lemon juice as needed.